Welcome to Event Venues: Your Gateway to Unforgettable Gatherings!
Discover the perfect setting for your next extraordinary event. Our extensive collection of stunning venues offers unparalleled ambiance and versatility. From enchanting ballrooms to picturesque outdoor spaces, we have it all.
Immerse yourself in a world of endless possibilities as you explore our curated selection. Whether you're planning a wedding, corporate gala, or milestone celebration, our venues provide the canvas for your dreams to come alive.
ALL YOU NEED UNDER ONE ROOF
Studio Party Miami offers event venues that transform to accommodate all your needs. Fully equipped with sound, lighting, and LED furniture, the space is perfect for any kind of experience. Our interactive DJ's and special attractions keep guests engaged and entertained all night. We will help you plan your event from start to finish, free of charge.
LITERALLY ON THE BEACH! Enjoy your event with your toes on the sand.
Fits up to 800 guests. This venue has four areas in one: 2500 SQF of partially covered area, 2000 SQF of marble floor, 2000 SQF of grass, 3000 SQF of beach sand and unlimited ocean!
Restrooms and electricity available. Located between Sunny Isles Beach & Hallandale Beach.
Fits over 400 Guests this venue has a large Stage, sound system and lights and has over 600 parking spots Full of art and cool vibes.
Spacious and neat fits up to 250 guests with a great lounge area located in the heart of Sunny Isles Beach event space venue rental led dance floor All inclusive packages available
4500 square feet of indoor venue In the plaza of Winn Dixie on 163rd in Sunny isles beach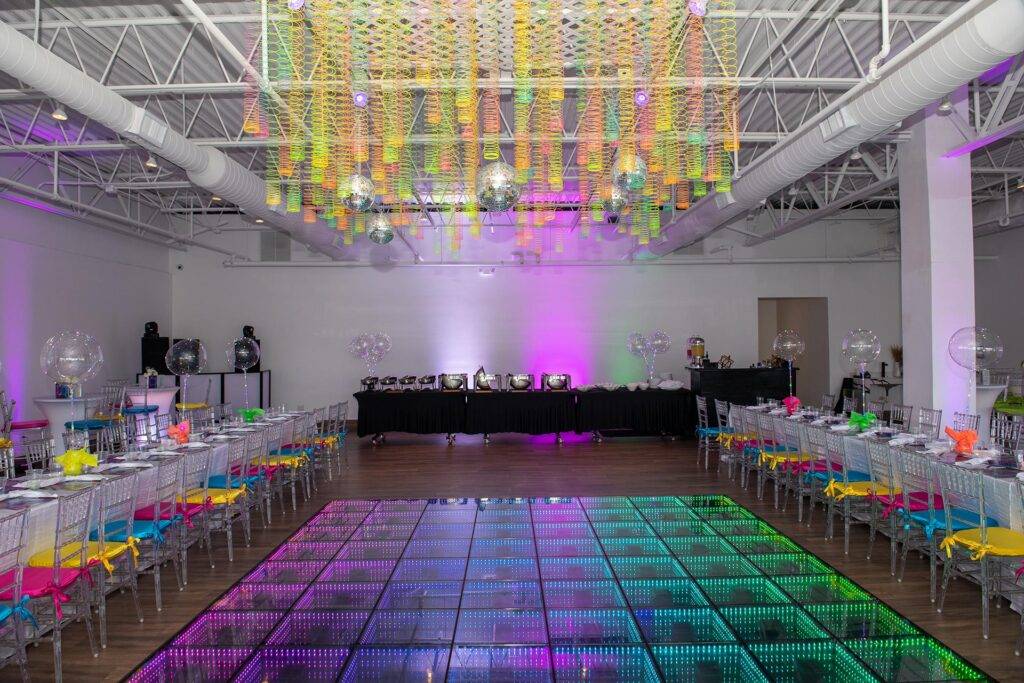 At Sheridan and 95 Fully equipped up to 400 guests out doors and 350 indoors, lots of free parking and a full kitchen and bar service available event space venue rental led dance floor
Indoor venue is perfect for gatherings, dance parties, and children's events! Fits up to 250 guests. Venue is fully equipped with sound, lights, video screens system, tables and chairs.
Welcome to West Dixie & Hallandale, a hidden gem nestled in the vibrant city of Miami. Our venue combines the best of both worlds, blending the charm of West Dixie's historic district with the modern allure of Hallandale's energetic atmosphere. Step into a world where timeless elegance meets contemporary sophistication. Our versatile space offers endless possibilities for your special event, whether it's a corporate gathering, wedding reception, or milestone celebration.
Fully equipped rooftop venue located at the Hollywood Hard Rock Guitar Hotel! Fits up to 800 guests. The space includes a partially covered area, bar service, sound / lights system, & outdoor patio furniture. Option to bring your own catering.
Aventura rooftop venue is located at the hart of city of Aventura. Fits up to 800 guests. The space includes 2500 SQF of an indoor covered area, & 5000 SQF outdoor roof top. Option to bring your own catering.
Welcome to Hollywood White Venue, where glamour meets sophistication in the heart of the entertainment capital. Nestled amidst the glitz and glamour of Hollywood, our stunning venue sets the stage for unforgettable events. Step into a world of elegance and opulence, where every detail is meticulously designed to create an enchanting atmosphere. With its sleek white décor, modern architecture, and state-of-the-art facilities.
NORTH MIAMI BEACH BACK YARD
Back Yard !! Fits up to 150 guests. 3 Levels, No noise restrictions, great location at North Miami Beach Great for beach weddings, Bar/Bat Mitzvahs, Corporate events and more. Welcome to the North Miami Beach Back Yard, a hidden oasis that combines the tranquility of nature with the convenience of a backyard event space. Surrounded by lush greenery and a serene ambiance, our venue provides the perfect setting for intimate gatherings, outdoor parties, and memorable celebrations.
163RD NMB - 3 PARTY ROOMS EACH 1100 SQF
3 Party rooms of 1100 SQF for small parties up to 75 guests at North Miami Beach at 163rd Street and West Dixie Highway.
Welcome to our Party Room, where celebrations come alive! Step into a vibrant and energetic space designed to ignite joy and create unforgettable memories. With its lively atmosphere, versatile layout, and modern amenities, our Party Room is the perfect venue to host birthdays, anniversaries, and special occasions of all kinds. Let the festivities begin!
Welcome to Villa Party Miami, the epitome of luxury and entertainment. This exclusive villa offers a private haven where you can indulge in the ultimate party experience. With its exquisite design, lavish amenities, and breathtaking views, Villa Party Miami sets the stage for unforgettable celebrations and exclusive gatherings in the heart of Miami.
Up to 250 Guests indoors and 150 outdoors, Industrial look mixed with fashion with large bar and prep area. Welcome to Wynwood, Miami's artistic playground and an extraordinary venue for parties. Immerse yourself in the vibrant energy of this eclectic neighborhood, surrounded by captivating street art and trendy establishments. With its unique character and hip ambiance, Wynwood offers an unforgettable backdrop for unforgettable parties and celebrations. Let the creativity flow in Wynwood!
Stephanie Katz
2023-01-04
Ran is the best DJ. Kept everyone entertained!! I highly recommend him. Thank you for everything
Studio party Miami created an amazing professional music video for my sons bar mitzvah!! We had a great experience we just had to show up n Ran Oz guided us through every step n got the job done quickly! Highly recommend!
Ran is best DJ !! He plays great music and knows how to energize both the kids and the adults. He has fun dancing games, great activities and creates a fun environment for everyone. We are so happy we chose him to do my daughters Bat mitzvah!
UDI Branding U Design It
2022-04-05
Aging service, great studio and staff.
We couldn't have been happier with our choice! They listened to all of our requests and put together a one stop shop for an amazing Bat Mitzvah for my daughter!! She was so happy with how everything turned out and all of her guests had a great time. Will be using them again for my other daughter!!
Wonderful experience working together with Ran and Studio Party Miami! It is ensured that all aspects of the event are taken care of in advance! The services include a DJ/ emcee that gets all of the guests dancing, a variety of venues to chose from, and so many additional items like dancers, LED dance floor, etc. Studio Party Miami is a one stop shop for everything you need for your next event. Highly recommended!
Ramón Urbaneja
2021-09-27
Interesante. Tango y más